Montez Press
–
Interjection Calendar 007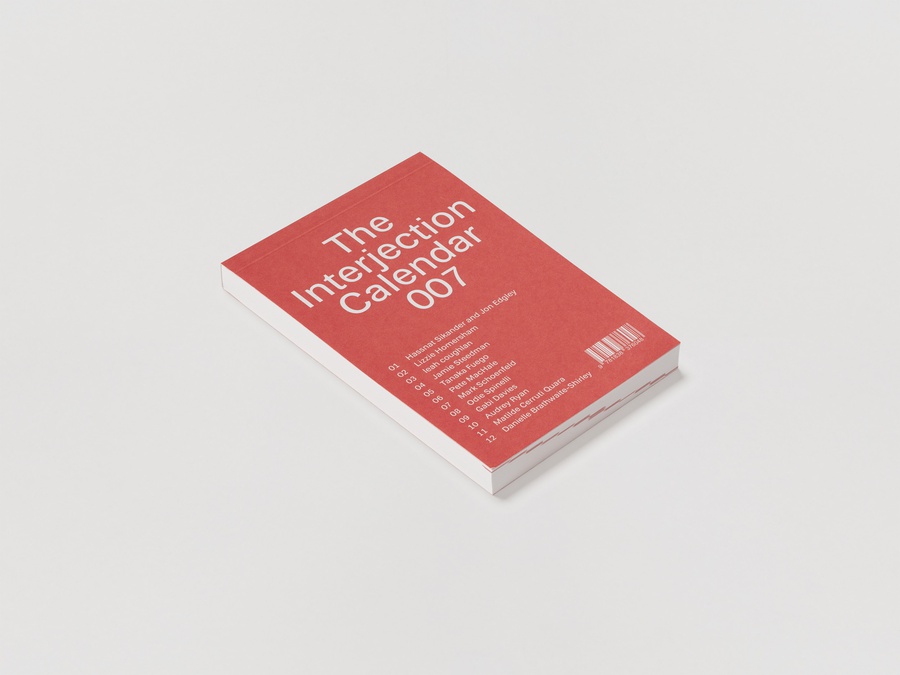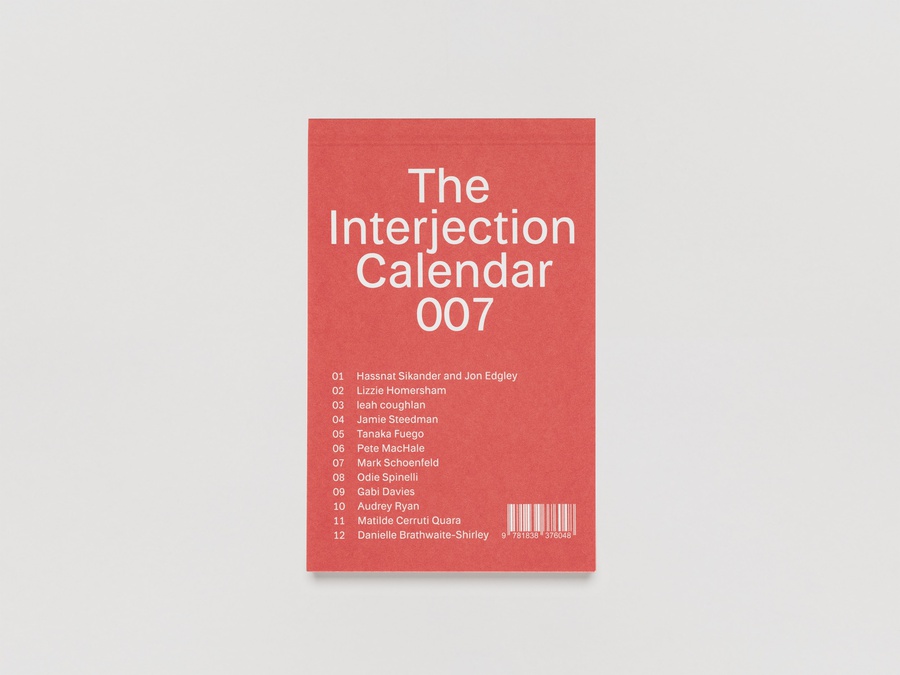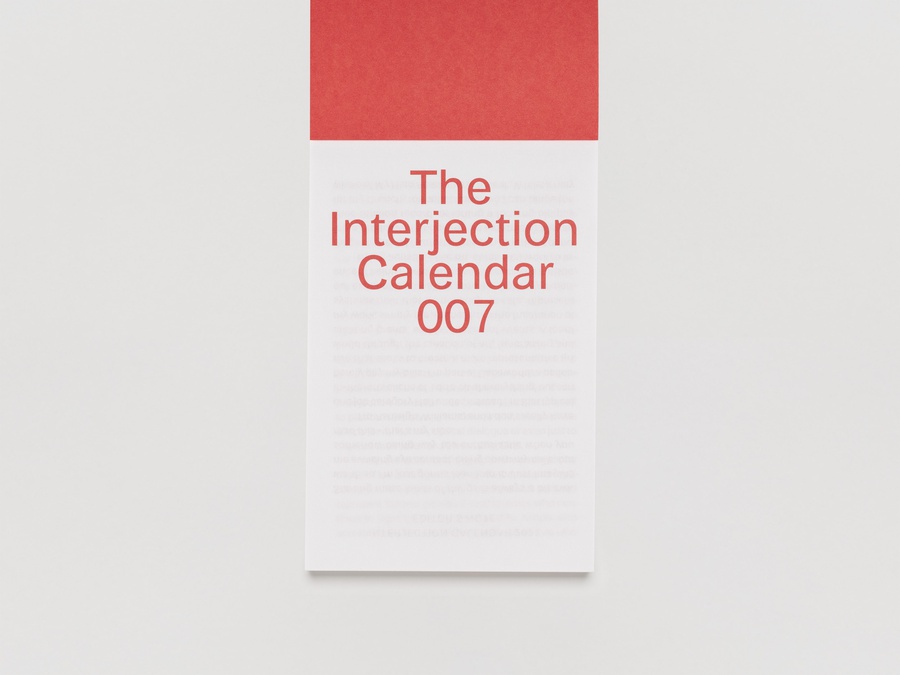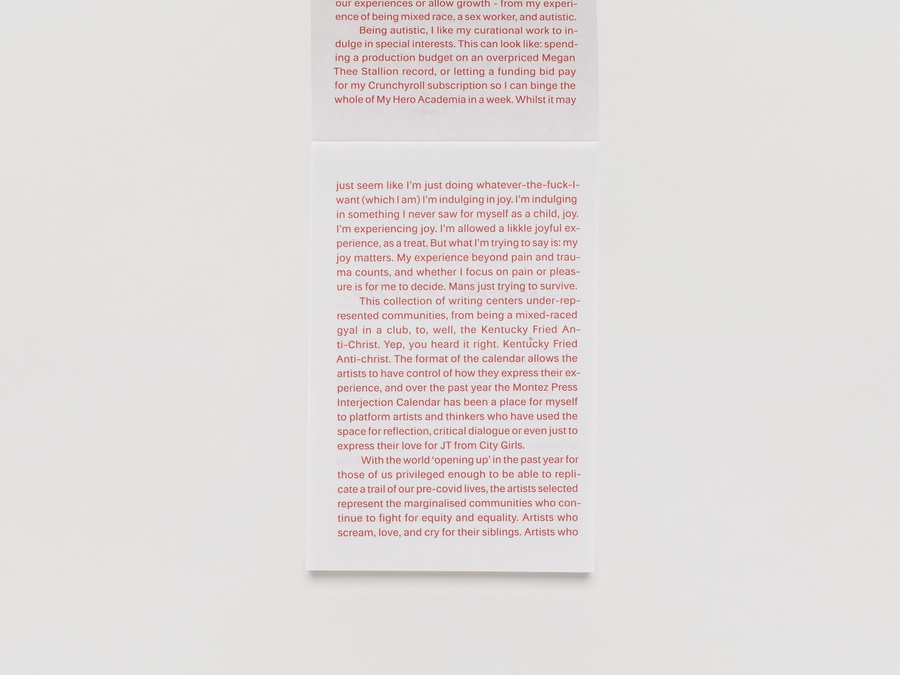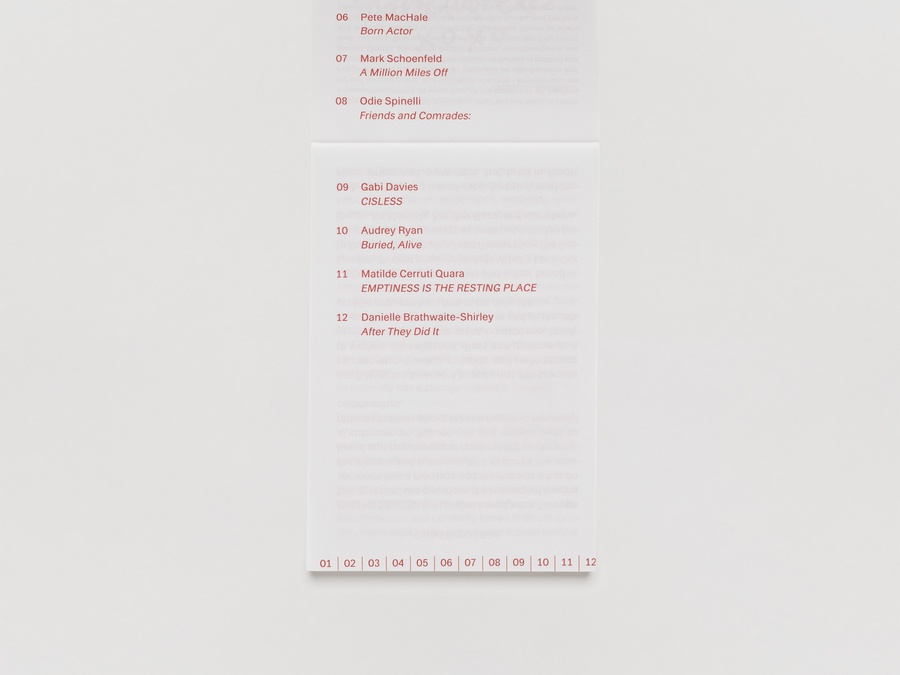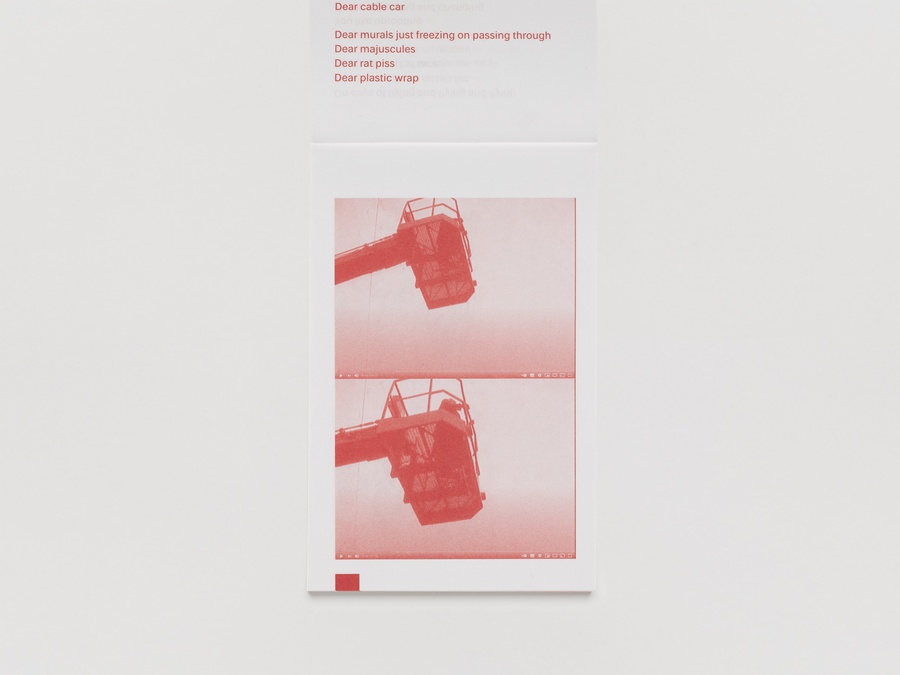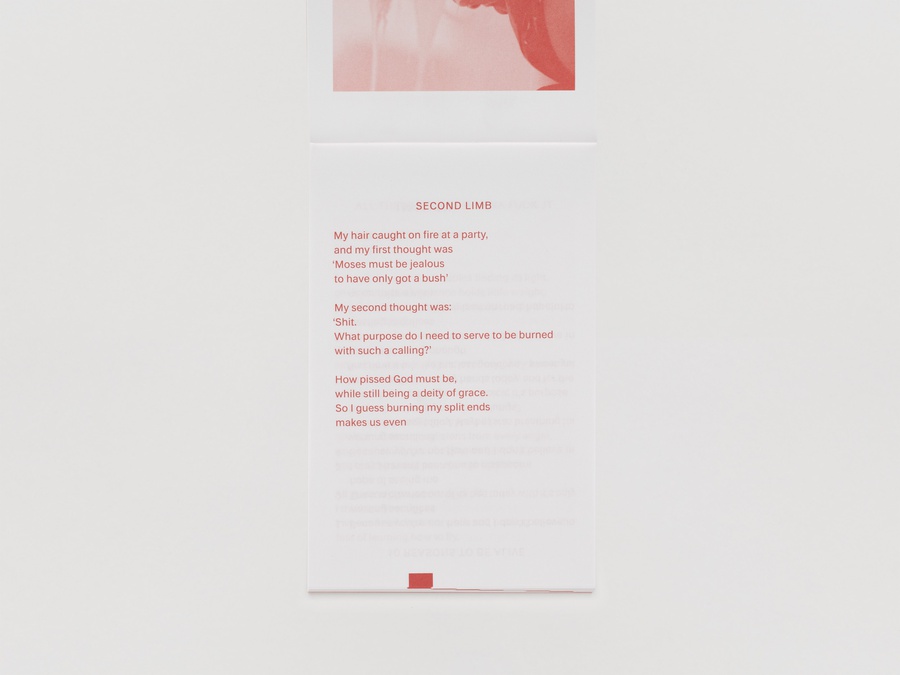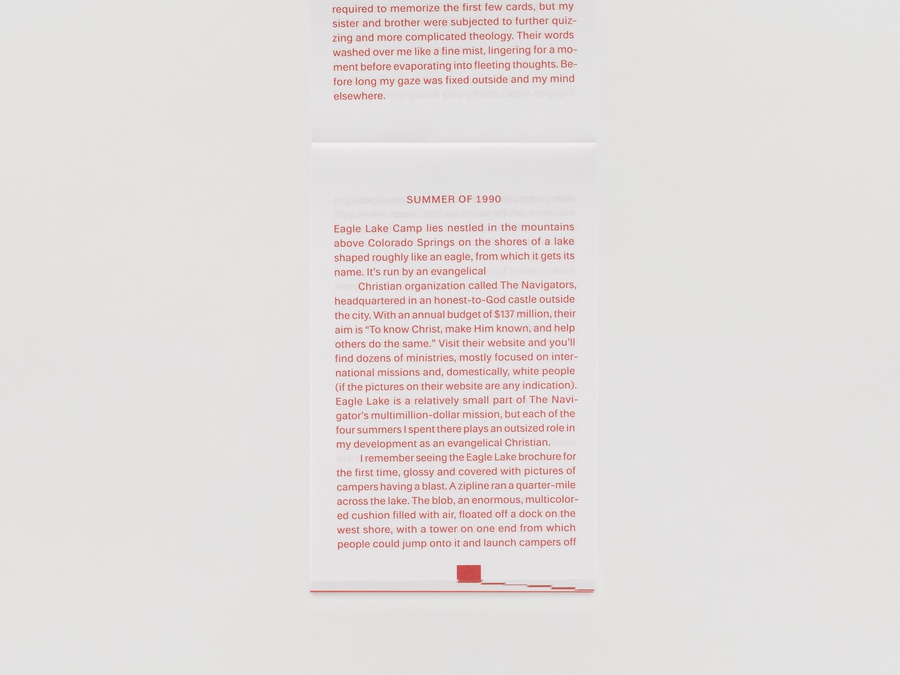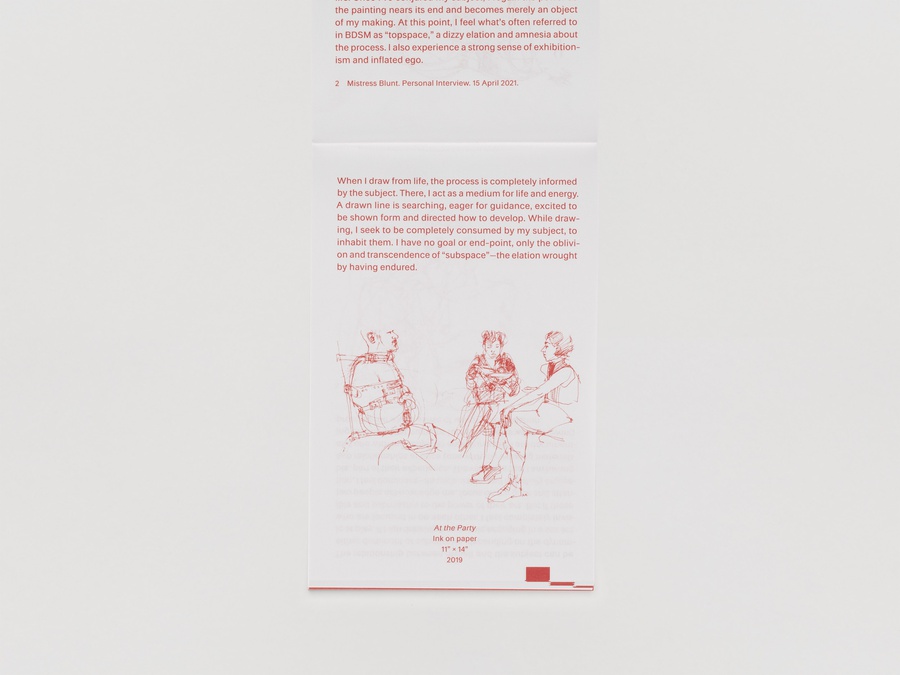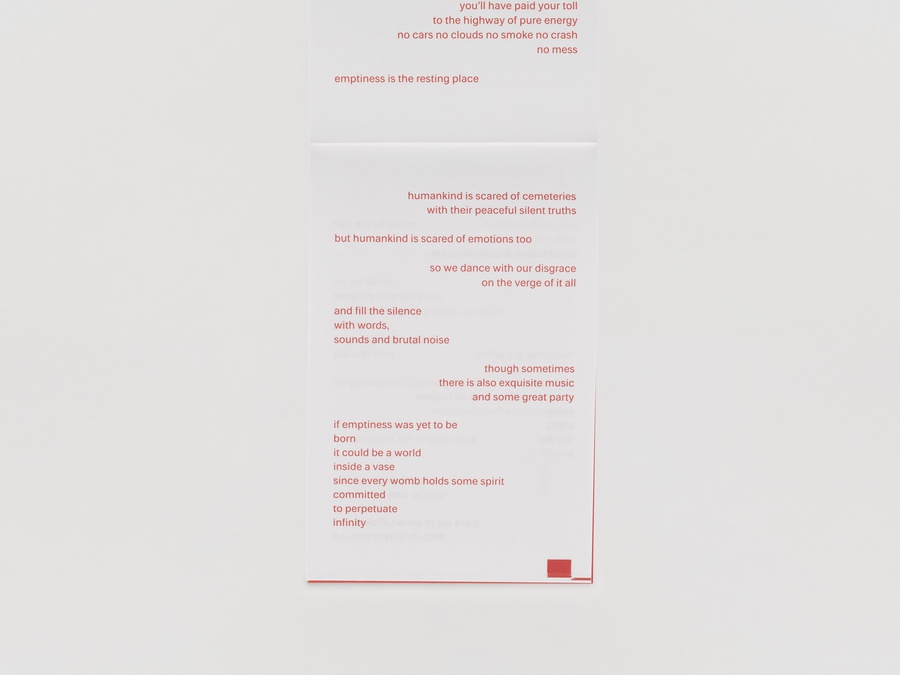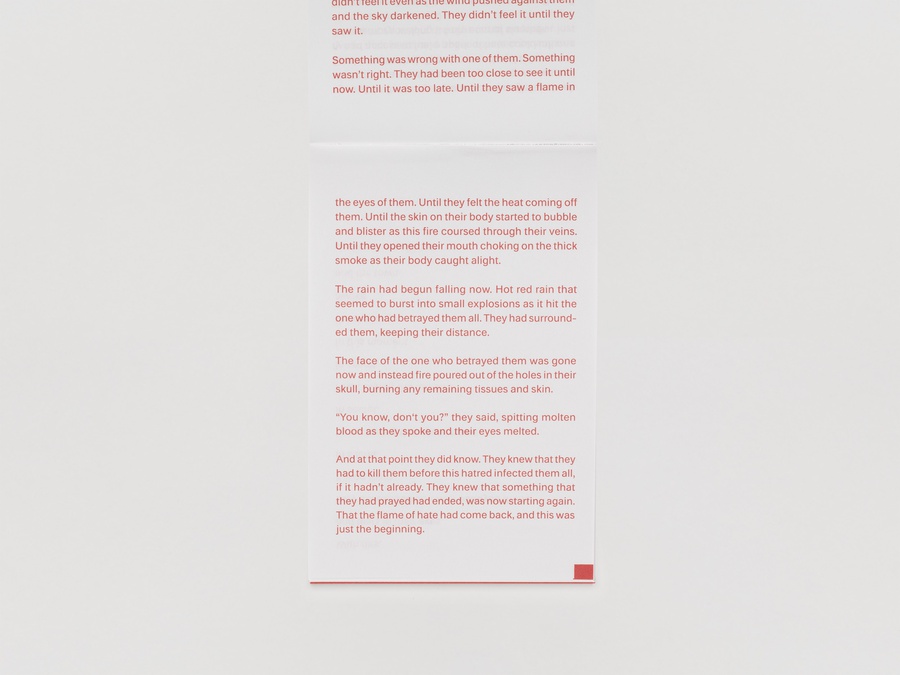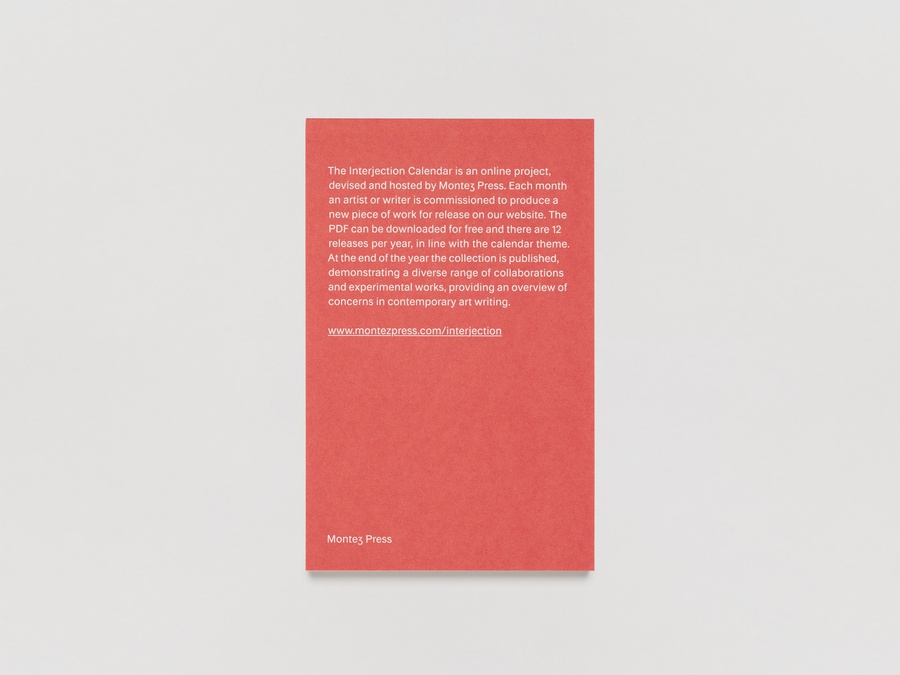 Montez Press is very pleased to present the Interjection Calendar 007, featuring work by Hassnat Sikander & Jon Edgley, Lizzie Homersham, leah coughlan, Jamie Steedman, Tanaka Fuego, Pete MacHale, Mark Schoenfeld, Odie Spinelli, Gabi Davies, Audrey Ryan, Matilde Cerruti Quara, and Danielle Brathwaite-Shirley, and guest edited by artist Ashleigh Williams, who leads the Babeworld collective.

The Interjection Calendar is a project devised and hosted by Montez Press. Each month an artist or writer is commissioned to produce a new piece of work for release on our website. At the end of the year the collection is published, demonstrating a diverse range of collaborations and experimental works, mapping the year in contemporary art writing, with equal space held for the emerging and the established. The Calendar reflects the current importance of online content media, pushing the relationship between image and text in this domain.

From the Editor's Note by Ashleigh Williams: This collection of writing centers under-represented communities, from being a mixed-race gyal in a club, to, well, the Kentucky Fried Anti-Christ. Yep, you heard that right. Kentucky Fried Anti-Christ. The format of the calendar allows the artists to have control of how they express their experience, and over 2021 the Interjection Calendar 007 has been a place to platform artists and thinkers who have used the space for reflection, critical dialogue, or even just to express their love for JT from City Girls. This Calendar offers a dialogue that extends further than pre-conceived notions of identity, and a platform for those who are oppressed to exist beyond being labelled an 'activist', and beyond being dictated to by societal expectations of being marginalised.
Ashleigh Williams
Ashleigh Williams (she/her) leads Babeworld, a collective which seeks to create a more representative art world through the creation of art, fundraising and creating grants, and facilitation of events - for those who are marginalised in the arts. With an emphasis on collaboration and co-creation, Babeworld's practice focuses on themes of political and societal identity, specifically disability/access, neurodivergence, sex work and race.

In addition Babeworld runs the lecture series 'Don't Worry I'm Sick and Poor' which has recently been delivered with ICA London, and they have been commissioned by organisations including East Street Arts, PAF London, Montez Press, Huffpost, Gal-Dem, Shape Arts, New Contemporaries, Unlimited, Deptford X, Leeds 2023, White Cube, Grey Moth, Imitating The Dog and the Institute of Contemporary Art. They are currently developing an alternative schooling programme with East Street Arts for 2022. Find out more about Babeworld at babeworld3000.com

Hassnat Sikander and Jon Edgley
Hassnat Sikander is an artist based in London. Through her practice she questions the morality of forcing someone into a marriage and the impacts it has on the victims and survivors. She explores the emotional and psychological consequences of cultural enforcement through text and spoken word, to raise awareness about mental health in the Asian communities.
Jon Edgley is an artist based in Liverpool. His practice incorporates drawing, curation and performance to explore his existence, class and position as a minimum wage worker, artist, curator, son, brother, cashier, shelf-stacker, customer and all the other roles required from him in his daily life.

Lizzie Homersham
Lizzie Homersham is a writer and editor based in London. Recent projects include What's Love Got To Do With Teleportation? and Painters Say The Funniest Things. Her writing has been published in Artforum, Art Monthly, Another Gaze, and elsewhere.

leah coughlan
leah coughlan writes on Instagram under @yumlean/@wordsofleah, her work explores the visual, the visceral and the uncomfortable, exploring what it means to exist at multiple intersections. Leah's work dramatizes the inner workings of the mind, the thoughts you didn't know you were thinking, the mundanity, agony and delight of being alive.

Jamie Steedman
Jamie Steedman is an artist, writer and cultural nomad from and currently stranded in Glasgow, Scotland, Earth. He completed an MA in Contemporary Art Practice in the Public Sphere at Royal College of Art (2020) and is currently co-editor of the quarterly arts publication windfall*. His practice attempts to intersect peculiar lives, afterlives and failures, and he currently has a strange interest in seagulls.

Tanaka Fuego
Tanaka Fuego is a slam winning, multi- published, international spoken word performer. He is a black, queer artist whose poems cross leaps and boundaries throughout his identity.

Pete MacHale
Pete is a transgender actor/writer/deviser born and bred in Bristol, trained at Arts University Bournemouth, and currently based in South London. Pete's work centres stories that feature truthful nuanced portrayal of trans and queer people and their lives, drawing from his own experiences and those that he sees reflected around him in his community. Pete always thinks his writing is very serious and spooky, but he's often told "this is so funny, good job!" which is also nice. His debut solo show Dear Young Monster is currently in development with The Queer House. Recent acting credits include Dungarees (Dir. Abel Rubinstein,) featured in BFI LFF and nominated for the Best of British @Iris Prize, Gangs of London (HBO/Sky atlantic), and YUNGLBUD's Mars music video.

Mark Schoenfeld
Mark Schoenfeld (he/him) is an ex-evangelical, recovering public school teacher, and disgruntled Texan. His writing seeks to contextualize his experiences within the larger systems that have impacted his and so many others' lives. Mark lives in Missoula, Montana with his wife and young daughter, where he is pursuing his MFA in Creative Writing.

Odie Spinelli
Odie Spinelli is a non-binary working class multidisciplinary artist from Minneapolis, MN, United States. Their work is rooted in their experience with addiction, mental health and illness, gender, sexuality, politics, and relationships. Known as @not.yr.boyfriend on Instagram, their colourful, introspective memes are meant to be a healing voice amongst a sea of depression memes and infighting. Aside from memes they produce other content such as writing, zines, jewellery, and have a rich history of performance art and curation in the Minneapolis queer scene at spaces like Madame and Patrick's Cabaret.

Gabriella Davies
Gabriella Davies (she/her) is a 29 year old artist who has run away from being poor and marginalised in Stoke to live the artist's dream of being poor and marginalised in London. Previously described as 'a reasonable balance of swearing & insight' and 'chic & tacky all at the same time', she's a working-class trans woman from the midlands with an answer for everything. Known as the queen of one-liners, with a knack for killer titles, she plays to her strengths; taking class and gender and turning them on the world as her lens. Gabi received her MA from Royal College of Art in 2019, and served as the institution's first openly trans SU president. She is also a member of Babeworld, was selected as part of Bloomberg New Contemporaries 2020, completed a digital residency with Deptford X, and was shortlisted for the Institute of Contemporary Arts New Creatives programme.

Audrey Ryan
Audrey Ryan (b.1989) is a figurative and portrait artist whose self and work are informed by years spent in punk/hardcore communities, years spent in BDSM communities, years of classical ballet training, years spent bartending, years spent living with chronic illnesses, and years lost to eating disorders. While Ryan's work seeks to confront and question our architecture of shame, control and power, it is also interested in exploring pain, healing, intimacy and love. Ryan holds a BFA in Drawing/Painting and a BS in Art Education from SUNY New Paltz. She was the first manager of the Con Artist Collective (LES, NYC) and founded its residency program, Epic Epoch. Ryan has taught various workshops and was a Teaching Artist at the Children's Museum of the Arts of NY. She has worked with organizations such as the Stigma Unbound Collective, New Chamber Ballet and the Royal Institute of Stockholm. Ryan's zines have been published both independently as well as with Endless Editions; copies of which can be found in the MoMA library and the NY Public Library. She has participated in several residencies including The Vermont Studio Center, Meeting House, and The Wassaic Project. She is also the resident artist at the House of Mistress Blunt. Her paintings can be found in films such as Long Nights, Short Mornings (2016) and Hide and Seek (upcoming) and interviews with her can be found in Inked Magazine and more recently, on the podcast Art Uncovered.

Matilde Cerruti Quara
Matilde Cerruti Quara is a multimedia artist, poet, theatre-maker, writer and performer of Italian and Slavic descent. Rooted in storytelling, her work reflects on language, archetypes and systems of belief, spirituality and rituals, sexuality, the inherent complexity of humanness and power dynamics. In February 2020, she debuted her first experimental play VERDIGRIS, produced with the support of Arts Council England (DYCP) at Jupiter Woods, London, UK. Her prose writing and poetry are published, among others, by Mousse Publishing; MIT List Visual Arts Centre; Towner Art Gallery, the Italian Pavilion at the 58th Venice Biennale and featured in independent publishing projects such as ECOCORE and Site Projects. Previously, Matilde worked internationally as an independent curator and producer. She also held a rubric titled 'In the studio with...' for L'Uomo Vogue and was a regular contributor to i-D Italy intertwining fashion, art and think pieces.

Danielle Brathwaite-Shirley
Artist Danielle Brathwaite-Shirley uses the forms and imagery of video games to create works that consider "what archives have left out and how we can archive now." Danielle works predominantly in animation, sound, performance and video games to communicate the experiences of being a Black Trans person. Danielle's practice focuses on recording the lives of Black Trans people, intertwining lived experience with fiction to imaginatively retell Trans stories. Spurred on by a desire to record the "History of Trans people both living and past" their work can often be seen as a Trans archive where Black Trans people are stored for the future. "Throughout history, Black queer and Trans people have been erased from the archives. Because of this it is necessary not only to archive our existence, but also the many creative narratives we have used and continue to use to share our experiences." Danielle's work has been shown in ICA, albright knox, David Kordansky, Quad, Arebyte, Science Gallery, MU, Barbican, Tate.

The Interjection Calendar 007 is supported by funding from Arts Council England.
ISBN 978–1–8383760–4–8
Year: 2022
Format: 100 × 155 mm
Binding:
Pages: 276
Sold out